New pages
Welcome to Brothers

Edit
Brothers is a collaborative website and episode guide about the 1984 to 1989 Showtime series which involves three brothers who live in Philadelphia and come to grips with their youngest brother being gay. Would you like to contribute to this labor of love?
Brothers series description
Edit
This story revolves around three brothers. Joe Waters is an ex-place kicker for the Philadelphia Eagles. Now retired, he's opened up a restaurant called The Point After. Lou is his older brother, a gruff construction worker. Both Joe and Lou receive the shock of their lives when their youngest brother Cliff reveals that he's gay. Both funny and touching situations follow as Joe and Lou alternately try to accept Cliff's homosexuality or cure him of it.
Season One | Season Two | Season Three | Season Four | Season Five
Random Stuff
Edit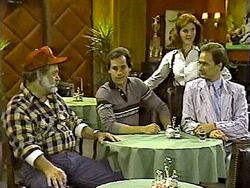 Brothers Cast Birthdays
Edit
Philip Charles MacKenzie (his website) as "Donald Maltby": DOB is unknown
Hallie Todd (fan site) as "Penny Waters": Jan. 07, 1962
Mary Ann Pascal as "Samantha Waters": Feb. 04, 1958
Yeardley Smith (her website) as "Luella Waters" (Lou's daughter): Jul. 03, 1964
Robert Walden as "Joe Waters": Sep. 25, 1943
Robin Riker (her website) as "Kelly Hall": Oct. 02, 1952
Paul Regina as "Cliff Waters": Oct. 25, 1956 - Jan. 31, 2006
Brandon Maggart (his website) as "Lou Waters": Dec. 12, 1933
Petition For Series Release on DVD
Edit
Let Showtime Networks know that you want the series released on DVD.
Sign the online petition!