Joe is getting ready for a date while Cliff sits on the couch watching the tv. It turns out Cliff hasn't had a date in three weeks and is moping about it. Lou enters and shows a brochure to Joe and Cliff. It is about an ex-gay group called, "Go Away. I'm Not Gay!" Cliff is completely against the idea.
Next we find Cliff at Donald's apartment playing a game of chess with himself. Donald enters the room and announces that he's going out to the Velvet Spike, a gay bar. Cliff decides to go along with him. Cliff feels out of place until the bartender befriends him. Cliff is interested in him but Donald bursts Cliff's bubble by telling him that the bartender is married. Cliff then has a couple of confusing confrontations before he leaves the bar completely disappointed in the whole experience.
He reconsiders the idea of the ex-gay group and decides to attend. Lou sets up their next meeting at Joe's house. The group leader claims that people are gay because they are hostile and hate the world in general and women in particular. Cliff realizes that this description doesn't fit him in the least. He wants to love and be loved. He doesn't hate anyone.
The next day at the Point After when the restaurant is closing for the night, Donald brings the bartender to talk with Donald. The bartender mentions that he has been in a relationship for 11 years and he feels every bit as married as any straight couple. This gives Cliff hope for the future. Perhaps one day he too will find Mr. Right and get married.
PART 1
PART 2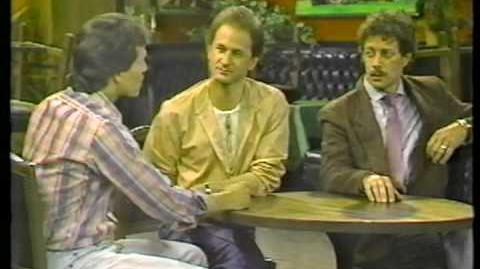 PART 3
Back To Season One