You Brought a New Kind of Love to Me
Season One, Episode Two
Air date
Aug. 16, 1984
Written by
Greg Antonacci
Directed by
Joel Zwick
Episode guide
Previous
The Wedding
Next
Lizards Ain't Snakes

Donald spent the night in Joe and Cliff's guest room. Over breakfast with Joe, Donald confesses that he didn't really lose his keys, but threw them at Julio Iglesias. Joe is obviously still tentative about being around such a flamboyantly gay man as Donald.
After Cliff and Donald leave for work, three football player friends from Joe's playing days stop by Joe's apartment. They discover Donald coming out of the bathroom, wearing a towel and a shower cap, singing "Girls Just Wanna Have Fun." Since Donald says he and Joe were discussing the football players at breakfast, the three men assume that Joe is gay. A reinforcing comment from Cliff -- "he was saying this morning that he doesn't feel like one of the boys anymore" -- confirms their belief in their minds.
The players talk to Joe and say they met Donald, and they "know." Joe assumes they mean they know Cliff is gay, but the men believe Joe is talking about himself. When they turn insulting Joe throws them out of the restaurant.
One of the players, Bubba Dean, comes by Joe's apartment later to apologize. He also drops a bombshell on Joe: he, too, is gay, and "really loves" Joe. Joe says he's straight, but Bubba thinks Joe is prejudiced and doesn't want a black/white relationship.
Joe has no idea of how to solve the problem, so he turns to Donald. Donald points out that Bubba obviously prefers "butch" men and advises Joe to "flounce." After Donald prances around his table and invites Joe to do the same, Joe fails miserably. Donald says to just "talk it."
When they meet again, Joe says he doesn't want to go out with Bubba because of caftans. Bubba tells Joe he can drop the charade because Bubba talked to Cliff and discovered the truth. In fact, he informs Joe that, next time the team is in town, Bubba and Cliff are going out on a date!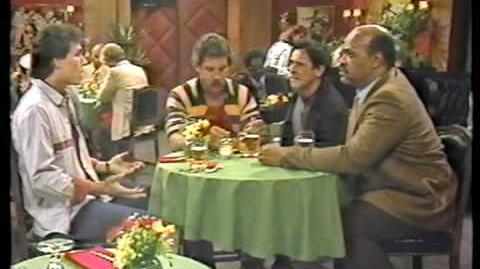 Back To Season One